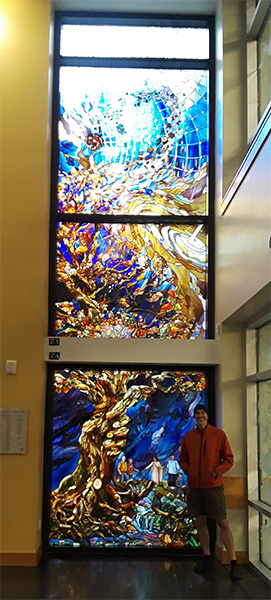 We just returned from a trip to Hailey, Idaho and Salt Lake City, Utah to visit friends and celebrate Christmas with our kids. The weather felt like spring and I found myself wishing I could bring it back with me. When we got home, I discovered our weather, while slightly colder, is warm enough to bring rain. Maybe this is a lesson on being careful what you wish for because rain in January in Northern Minnesota will very quickly turn to ice. Despite this, I'm enjoying the warmer temps.
I didn't get much writing done while in Salt Lake City. We spent our days exploring the city. One of my favorite things we came across was the "Seven Pillars of Humanity" at Holdman Studios. It's a gorgeous story of humanity across cultures and generations depicted in stained glass. Each pillar is over seven feet tall and about three feet wide. I spent over an hour marveling at the detail in each section. The way the variety of colors of glass were used to capture the depth of the scene and the painted details of the faces were fantastic. The piece is like a painting out of glass. You can take a virtual tour of it online at https://www.rootsofhumanity.org/7-pillars. However, if you ever have a chance to see it in person, I strongly recommend you do so. Stained glass is an art medium that looks better to the naked eye than in a photo.
Our love of the "Seven Pillars of Humanity" led us to the "Roots of Knowledge" stained glass mural at the Fullerton Library at UVU in Orem. This is a permanent display that is just as incredible. You can take a virtual tour at: https://www.uvu.edu/rootsofknowledge/tour/. The mural is a timeline of historical events leading up to the future. I enjoyed the storytelling of the mural and the amount of detail in every panel. When you look at each panel, you can see how items in the past shaped the future. Along the way, there are non-glass objects like rocks and computer parts put into scenes. The mural starts with a tree that has roots that stretch through the bottom panel of every scene until it reaches the ending tree, which has a hand passing a torch to the future generation. The future tree has branches that run along the top glass panels all the way back to the beginning tree. Again, if you ever find yourself in Salt Lake City, take an hour or so to visit the mural in Orem. You won't regret it.
This week, I have two short stories I'd like to finish and a novel I plan to start. I also have a drawing booklet that I'd like to start for a beginner drawing community education class I'm teaching in February. If you live near the Silver Bay, MN area and want to learn to draw, you're more than welcome to join in.
I hope everyone has a good week.