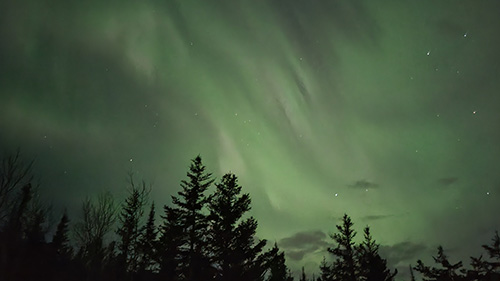 Last night at about 10:30pm, my husband and I went to Palisade Head along Lake Superior to watch the northern lights. My excitement levels felt as high as when I'm excited to give someone a gift or go on a vacation. I've wanted to see the northern lights along the north shore since I was a little girl and watched them skitter across the night sky from my childhood home in the boonies. The northern lights I saw as a child were often wispy and hard to see because we were in the southern section of Minnesota, where northern lights aren't as common.
The road up to the parking lot of Palisade Head is closed in the winter, so we navigated our way to the top in the dark on the snowy trail. A few times I almost tripped on snowballs that were the size used to make the average sized snowmen because I kept my head tilted toward the sky instead of watching where I was walking. There was just enough light from the waxing crescent moon reflecting off of the snow to let us see where we walked without ruining our night vision.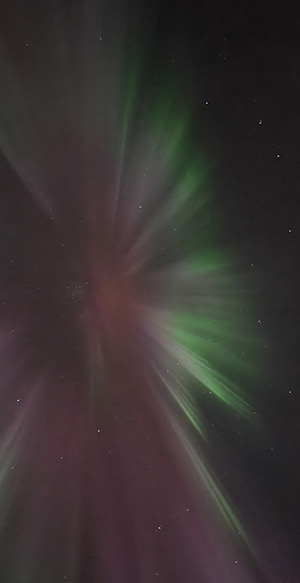 The silhouettes of the trees against the sky had us repeating how beautiful everything was around us. The weather was a perfect mid-thirties with no wind.
We were surprised to find we were the only ones on the cliff side. Not that we minded, because the view was incredible. The northern lights pulsed and swirled above us like silent fireworks. We could make out hints of green in areas where the northern lights were more concentrated. Otherwise, the northern lights were gray.
As a little note of trivia… when we look at the northern lights, most of the time they'll appear gray and green. The green happens when the storm is happening further from the horizon and is more concentrated. Most of the photos you've seen of the northern lights that show shades of greens, reds, and purples show what the camera sees. My husband took a few pictures so that we could later see what unfolded before us. I'll confess it felt a little strange knowing that what the camera caught differed from what we saw.
Still, the evening was perfect for a spontaneous date night. We watched the northern lights for about an hour and a half before we returned home. The northern lights were also dancing above our house and if we looked away from the streetlights, we could see the hints of green mixing with the gray.
On the writing front, my romance novel is coming along. I'm having fun with it. This week I won't get as much time to write as normal because I'm visiting family later in the week.
I hope everyone has a great week.