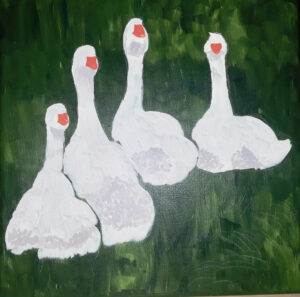 I haven't updated my site in awhile due to a few major life events, but I'm back.
Sadly, I didn't finish my duck painting in gouache. I learned that a thin canvas sheet isn't the best material for an art medium that utilizes water to be reactivated or spread. The more I worked on it the more the canvas buckled and curled. I tossed it when I was partway done. Last week I learned that gouache works better on watercolor friendly surfaces.
I switched to acrylic paints and a 12″ x 12″ canvas. This is a photo of my second day's progress.
There are two other art pieces I completed recently. One is a pen drawing of a quarter horse and the other is an acrylic painting of a goldfinch. I plan to get those posted this week in my gallery.