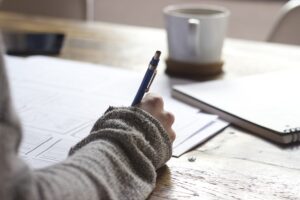 I love to write stories, to let my imagination explore what ifs and create predicaments for characters to get themselves out of. In my daydreams, I've pondered what it would be like to write as a career. How great would it be to sit down for hours on end and let the words flow from my fingers onto the screen? I imagine myself in a state of excitement and glee as my story takes twists and turns for my amusement and later for my readers' amusement. In my daydreams, writing is a magical adventure adding an extra element of joy to my life.
Now, that I'm trying to write with the mindset that this is my career, I sometimes find it hard to keep writing as a priority. I find it easy to create reasons and justifications not to write. There are so many other things vying for my attention: family, friends, exercise, volunteer activities, teaching my teenagers (I homeschool), household chores, and leisure activities. Not to mention "research" for my story, finding the "perfect" word, reworking sections of my story, learning new techniques to make me a better writer, and building an online presence to help me sell my stories. While in the moment, these things all feel important, but are they really more important than working on my novel? For me, not always. I'm not perfect and writing on some days unintentionally falls to the bottom of my priority list.
In the past, when a day escaped me and I didn't get writing time in, I'd promise myself I'd work extra hard tomorrow or make up my writing over the weekend. This logic worked for a while until it snowballed out of control and I found myself unable to make up twenty hours of missed writing time on a Saturday and Sunday. This logic also allowed for plenty of excuses to slip in and before long I'm no longer writing regularly.
I truly want to be a writer. In order to do so, I have to write. When my day doesn't go as planned (which is nearly every day), I have to work evenings to make up the time or split up the missed time over the next few days. If that means writing on a Saturday night, I write Saturday night. Sometimes I write when I don't want to and when I'd rather do anything else.
Figuring out how I write is still a work in progress, but over the last four months I've discovered I do well with a weekly goal, a butt in chair goal, and a deadline for the novel I'm writing. Right now my weekly goal is 12,000 words. This goal is a stretch for me to write especially on days when I average around 600 words per hour, which is why I also have a butt in chair goal. Each week, my goal is to get as close to 20 hours per week as possible. The writing goals don't need to be on one piece of writing. Variety is nice especially if I get stuck on where my novel is going. If I reach either goal for the week, I give myself a play day for the weekend, otherwise I work through the weekend.
Do I miss my goals for the week? Yes. Do I meet my personal deadlines? Not always. As I learn what I need to do to make take my writing career seriously, I think the goals are helpful to keep me moving forward. What I have learned so far is that the more I write the more I want to keep doing it. My goals help me track my progress and I adjust them as needed.
This week, my current novel is due on March 2. As the end of the week approaches, I may need to rearrange my schedule to write more so I meet the deadline, but right now I'm confident I'll make it. It may take a few late night writing sessions, but it's worth it.

To be a writer, I must write. It's fun and worth giving up other things to pursue my dream. As of the writing of this blog post, I have three novels in different stages of publishing with a fourth one nearly finished It's a fun adventure and if you have a desire to be a writer; I promise you won't regret going for it.