My original plan for today was to paint. Then I came across an artist trading card I started back in October that I hadn't finished yet. I have this guideline for myself that I must finish what I start. Since this had been tucked into a pile, I figured, it was time to finish it.
The trading card below is done with colored pencils. I didn't know this before I learned more about colored pencils, but the colors can be layered and blended. What isn't noticeable in the picture below is that the hat and the gift have a waxy, shiny appearance. The white flecks in the background were done by accident. It works well as snow.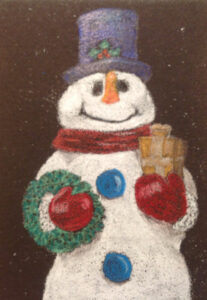 Artist trading cards measure 2.5″x3.5″. The small area is nice for keeping a project small. A card can be finished in a few hours.
The project for tomorrow remains a mystery.
Have a great afternoon.