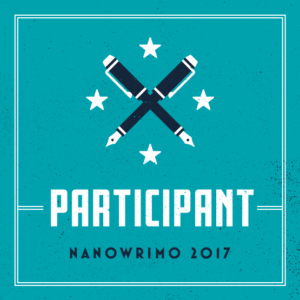 I completed my 50,000-word challenge on November 30, 2017. My shoulder injury made it painful to be on the computer for long. I persisted with my iPad, but typing on a touchscreen isn't as efficient as it is with a keyboard.
The last week of the challenge I had to write 25,000 words. My schedule left me needing to squeeze in writing in between teaching and chauffeuring.
The story idea was dropped because it turned into a dystopian type story. I'm not a fan of those kinds of stories and didn't want to write one. I made a few other attempts and realized that it wasn't going to work.
Since I didn't want to quit, I got an early start on a Christmas tradition that I have done since my teens were wee little ones. I wrote the beginnings of their Christmas stories. There are two characters, Incendio the Dragon and Brownie the Pony. They both think they are brilliant. Incendio loves to create things that often end up with explosions. Brownie thinks the world revolves around her and is very opinionated. Each year both characters try to find or make "the perfect gift" for my teens. As the years have gone by, my stories have evolved from a handwritten 3.5″x5″ index card into mini-novellas. I have combined the stories so that I'm writing in the same world with similar events just from a different perspective. My family loves puns and I do a good job of writing them unintentionally which leads to much laughter.
Now that it's December, I've been trying to get ahead on editing the Christmas stories. My teens get one to two pages (single-spaced) a day each. I miss the days when their attention span was short enough I fit their stories on index cards. 🙂 Regardless, writing the stories is a nice break from my more serious pursuits.