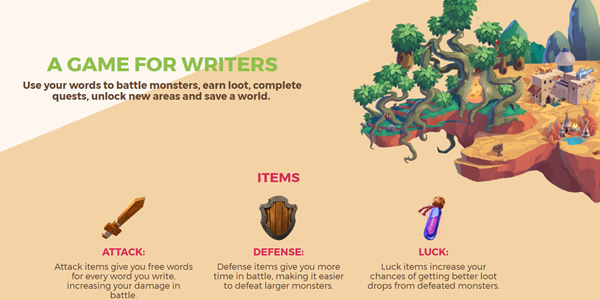 I'm a huge fan of games. On many occasions, my planner has a little paper game in it for me to progress through as I accomplish my tasks for the week. It appeals to my playful nature and makes my tasks less of a chore.
NaNoWriMo is one of my favorite writing challenges because it gets me out of stalling mode and into producing mode. I usually have rewards picked out for word count milestones so that I can celebrate my progress. Now, as an added bonus, there is an online tool that makes it even easier to be motivated to write, if you're a playful game lover like me.
4TheWords.com is a brilliant online role-playing game called. The website is designed as an online fantasy game where, as the writer, your words are your weapons to battle monsters. The world is designed so that you can explore it, take on quests, gather items, and meet your writing goals. The site is designed to save your writings as you type (almost every minute the document is saving) to a cloud. I strongly recommend also saving one to your computer for backup purposes because I'm paranoid and used to work at a helpdesk trying to help people retrieve documents after computer glitches struck.
I'm using it for my NaNoWriMo challenge. It's fun. I like having the challenge of writing a set amount of words in a certain amount of time. It gives me a chance to turn off my inner editor and simply focus on letting the words fall into place. There is a special series of writing quests just for NaNoWriMo and secret awards await as word counts are reached.
I may have found the perfect tool to keep me moving forward on my writings and improving my skill. If you have tried it or know of similar things let me know in the comments below.